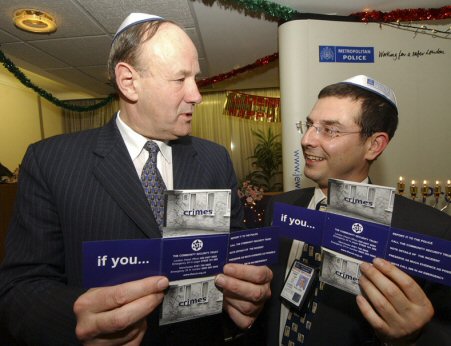 The first joint venture by the Community Security Trust and the Metropolitan Police is a step-by-step guide on how to report anti-Semitic crime.
The leaflet, illustrated by a wall daubed by swastikas and the works "die scum" and "C18" folds down into the size of a credit card. It contains information needed by a victim of an anti-Semitic incident, or anyone who received anti-Semitic literature, abusive or threatening phone calls, is affected by anti-Semitic graffiti, or sport a suspicious object. It was funded by the Met, designed by the CST and will be distributed by the Union of Jewish Students.
The leaflet states "report it to the police. Call the Community Security Trust. Note details of the incident. Preserve as much evidence as possible. Always call 999 in an emergency". It carries the telephone number for CST offices in London and Manchester and emergency 24-hours pager numbers.
The leaflet was launched officially at the Jewish Police Association Chanukah celebration last week attended by Met Police commissioner Sir John Stevens and other senior police officers and communal figures.
Commissioner Stevens, replying to a tribute from JPA chaplain Rabbi Alan Plancey, said the Jewish people were "the most persecuted the world has ever seen" but that "this was the way forward, communities being part and parcel of London and the United Kingdom".
JPA secretary PC Danny Phillips said, "Anti-Semitic crime continues to post problems for many within our community and the Metropolitan Police wants to encourage more victims to report such incidents.
"The JPA has worked closely with the CST and the Met to produce a leaflet to encourage people to report incidents of anti-Semitic crime. While we hope all sections of the community will benefit, we particularly want to target Jewish students who might feel vulnerable on campuses. It will be distributed initially by the Union of Jewish Students."
Later, Mr. Phillips added, "We are aware that there is under-reporting of anti-Semitic and racist crime. What is needed is a method of making people aware of how they can communicate with the police and know that they would be listened to."
A CST spokesman said "The leaflet will go out to students first and then be distributed to the wider community."
Reproduced with kind permission of the "Jewish Chronicle"