The Met commemorated the Holocaust Memorial Day on Monday, 27 January 2014 with an event organised by the Jewish Police Association at the Police Training Centre in Hendon.
Nearly two hundred staff, officers and guests attended the event where Deputy Commissioner Craig Mackey gave the keynote address.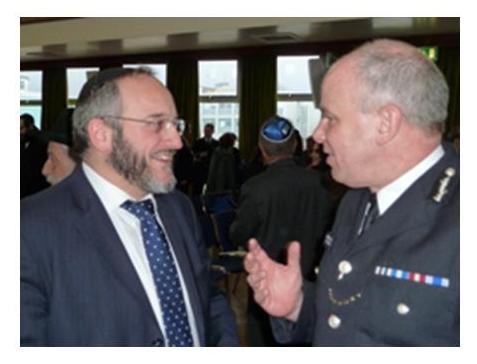 Deputy Commissioner Craig Mackey QPM with Rabbi Naftali Schiff.
Six candles were lit by guests including Jonathan Osborne, Met Senior Chaplain, Varsha Mistry, Deputy Chair of the Hindu Staff Association and Rob Ritchie, Chair of the Muslim Staff Associations in memory of the six million that lost their lives in the Holocaust. A seventh candle was lit by Andy Garrett, Chair of the Disability Staff Association in memory of victims of other genocides.
In keeping with this year's theme of Journeys, Rabbi Jonathan Wittenberg described the lessons learnt on his walk from his grandfather's synagogue to his own synagogue in North London. Rabbi Naftali Schiff led the memorial prayer, and talked of his experience when his own synagogue was vandalised in a hate crime.
Music was provided by the choir of Hasmonean Primary School. Pupils from Yavneh College described the impact on them of their recent visit to Poland.