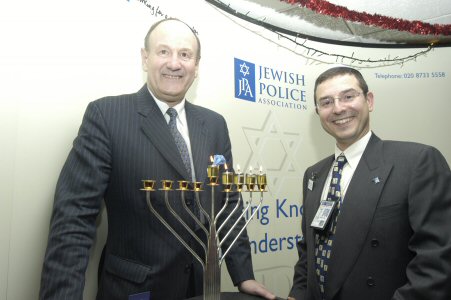 The Jewish people are the most persecuted community in history, according to London's top cop.
The dramatic claim came during Sir John Stevens' address to the Jewish Police Association's Chanukah party yesterday, in which he also reiterated the importance of the Community Security Trust's work.
"The Jewish community has been the most persecuted community the world has ever seen," he told the audience of more than 50 community leaders at Scotland Yard.
Monday's event also saw the launch of the latest weapon in the fight against campus anti-Semitism with the introduction of a new leaflet to encourage the reporting of crime against the community.
A joint initiative by the JPA and the CST, and funded solely by the Metropolitan police, more than 10,000 of the pocket-sized leaflets will be distributed to students and other vulnerable groups who are currently less likely to report anti-Semitic incidents.
Featuring images of a building daubed with swastikas, it offers contact information for reporting suspicious person or objects or in the event of anti-Semitic literature or threatening phone calls being received.
JPA chairman Jo Poole told TJ: "People who are currently unaware of the Community Security Trust's work or are not affiliated to a synagogue will now be aware of what to do if they are victims of anti-Semitism."
Distribution of the leaflet across the country will be led by the Union of Jewish Students, while Maccabi and AJEX are also expected to be involved.
Mark Ross, UJS chair, said: "It is a great pleasure to be involved in promoting awareness of anti-Semitic activity so that both the Jewish and non-Jewish have a better understanding of the realities of life on campus."
Earlier, the Met Commissioner lit the first candle on a special menorah.
Reproduced with kind permission of the "London Jewish News"