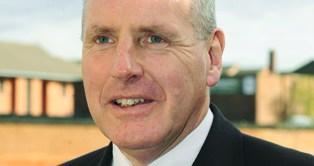 Police minister Vernon Coker has thrown out a challenge to recruit more members of the Jewish community into police forces across the country.
He told a reception in London on Monday night of senior police officers and civil staff from all over the country: "I will work hard with the Jewish Police Association to ensure that we get more members of the Jewish faith as police officers.
"I think this is a huge test for you all. You have seen, with respect to what has happened in Gaza, some of the stresses and strains on the community. I have said as Police Minister the need for us to improve the diversity within our police force and that our police should reflect the communities they police."
Mr Coker said he had spoken to the Community Security Trust and its chairman Gerald Ronson "about the work we need to do to keep confidence in the Jewish community and the way to that, is to have more Jewish police officers.
"A couple of weeks ago I was talking to a Muslim police officer who said as far as they were concerned, antisemitic attacks were disgraceful. I want to see Jews policing Muslims and Muslims policing Jews, with the rule of law being upheld above everything else.
"There are challenges and difficulties ahead but if we keep this at the forefront of our minds we will deliver the police service we want," said the minister.
Mr Coker was speaking at a JPA reception at New West End Synagogue in Bayswater, west London, on Tuesday evening, hosted jointly for the first time with the National Policing Improvement Agency.
JPA chairman Inspector Mat Shaer told the officers and staff that there were challenges for Orthodox Jews working on High Holy Days "that should not be shied away from. This is a difficult and contentious issue."
But if it was accepted that it was right to have Orthodox police officers, he said, it was right that their observance should be accommodated.
"The JPA has worked closely with the Metropolitan Police to have working solutions and we are willing to share our experience with others."
Later he said: "The NPIA has been very supportive in helping us to take forward our aims and objectives, especially around community contacts. They want to help us with recruitment from the Jewish community, because we know we are under-represented, and with retention afterwards.
"The biggest problem we have is a lack of time. We are all full-time police officers or civil staff and everything we do is in our own time. We want to make sure we are there to support all our members when they need it."
NPIA Chief Inspector Richard Padwell revealed that proportionately, in terms of population, there should 865 Jewish police officers in London. In fact there are only between 100 and 200.
"There would be particular benefits that Jewish police and staff would give in terms of guidance and advice to colleagues. There have been great strides in making the police a more open environment in terms of kosher food and being able to observe festivals," he said.
"One thing we need to find out is all the reasons why Jewish people don't join the police. The NPIA would be very keen to hear from anyone doing research on this."