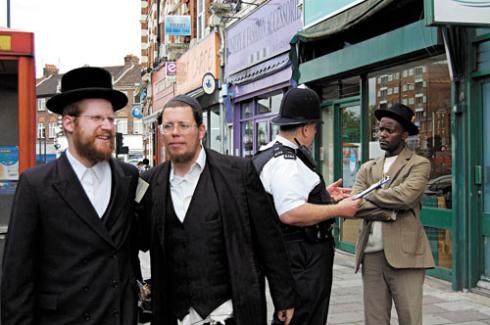 A pilot scheme to give ethnic victims of crime the right to ask for a police officer from their own community is unlikely to involve the Jewish community.
The scheme is currently being tested by London's Metropolitan Police with the Sikh and Punjabi community. The police is also encouraging its staff associations — which represent minority groups, such as Muslims and Hindus — to promote the initiative within their respective communities.
Black people and homosexuals may also be entitled to ask for an officer of the same ethnicity or sexuality. But Inspector Mat Shaer, chair of the Jewish Police Association, said it would not get involved because of the existence of the Community Security Trust.
"We were asked for our views and our opinion was that each community has its own differing requirements," said Inspector Shaer.
"In the Jewish community we have a very well established third party reporting system with the CST, which works successfully. I believe a community has the right to develop its own systems. But this is obviously a very important development for the Sikhs and we wish them every success."
He said the CST was very well established and it might be the case that other communities might not be so far advanced in that area.
He added: "If someone wants to talk to a Jewish police officer, then of course they can, arranged either through us or the Met.
"The Community Cultural Relations Unit has a list of all police officers who have specialist or cultural knowledge, and many of our members are registered with them."
The idea has been criticised by the Metropolitan Police Federation, the police union. Its chairman, Peter Smythe, told the Daily Telegraph that the scheme was "stupid" and would put a strain on an already overstretched force.
A Met spokesman explained that the scheme would enable a Sikh victim of a crime to ask for the details of the crime to be passed to a member of the Sikh Association.
But any investigation would still be carried out by local officers.