Two representatives of the Jewish Police Association were honoured to support a memorial ceremony held in the Olympic Borough of Hackney to the Israeli victims of the 1972 Munich Olympic massacre.
Distinguished guests at the event included Eric Pickles MP (Secretary of State for Communities), Boris Johnson (Mayor of London), and a representative of the Israeli Ambassador. The ceremony was also honoured by the visits of Yossef Ramano, a nephew of one of the murdered Israeli athletes, former British Olympian Ben Helfgott (who was in Munich in 1972) and Efraim Zinger, who leads Israel's delegation to the London 2012 Olympic Games. The local Hackney Metropolitan Police Borough were also represented.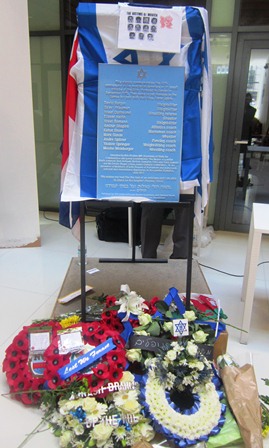 Alongside a small number of AJEX veterans the JPA were invited to lay a wreath as part of the service during which a plaque was unveiled in memory of the Israelis. The large community turnout were testament to the hard work of the two individuals who arranged and organised the entire event, Cllr Linda Kelly and Mr Martin Sugarman.