THE Metropolitan Police Service and the Jewish Police Association commemorated Holocaust Memorial Day on 27 January with an event at Simpson Hall, Hendon. Well over a hundred staff, officers and guests attended.
Six candles in memory of the six million were lit by guests including the heads of the Christian, Catholic, Sikh, Muslim and Hindu Police Staff Associations. A seventh candle in memory of victims of the other genocides recalled by Holocaust Memorial Day was lit by the head of the Disability Staff Association.
Holocaust survivor, Mr Alec Ward, described his boyhood during the Holocaust including the death of his younger brother, whom he had protected and cared for. Rabbi Raphy Garson, of the Ohr Yisrael Synagogue, Elstree, led the memorial prayer.
Deputy Commissioner Craig Mackey QPM, the Guest of Honour, took time during his first week in office to give the keynote address. Music was provided by the choir of Hasmonean Primary School. Pupils from Immanuel College read extracts from the diaries they completed during their recent visit to Poland.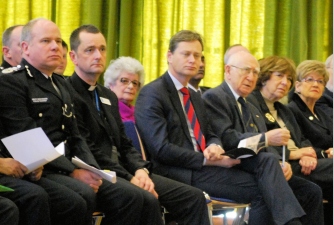 Deputy Commissioner Craig Mackey said;
"I found this morning's event deeply moving and was particularly honoured and humbled to hear Alex Ward speak so powerfully. We must always remember the lessons of history and guard against complacency when it comes to discrimination and hate. Neither have any place in our society and we in the Metropolitan Police Service will do everything to tackle them when we see them."
The Chair of the JPA, Mathew Shaer, reminded the audience that this year's HMD theme, "Speak Up, Speak, Out" was a particularly pertinent message for the police service to reflect on as the guardians of those unable to do so for themselves.