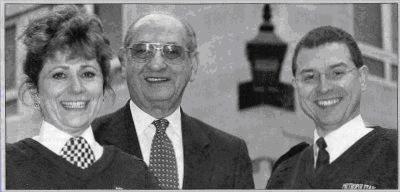 The Commissioner expressed his wholehearted support for the newly formed MPS Jewish Police Association – the first in the British Police Service – when he met with members.
The aim of this non-political organisation is to offer support and advice to Jewish staff and to promote understanding of the Jewish faith.
It will act as a source of advice on religious and cultural issues, in particular those that affect frontline policing. Details of the organisation are on the Met Intranet site.
The Met enjoys a positive relationship with the Jewish community and the Jewish Police Association will further this bond. The organisation was founded last August by PC Jo Poole and advertised first in The Job. PC Poole said: "This Association has already attracted more than 60 members and is currently finalizing a constitution."
The Commissioner met PC Poole, from West End Central Police station, Peter Russell, a retired special constable and civil staff member in Hampstead and Miriam Rich from the Directorate of Public Affairs.
PC Poole said she was "overwhelmed" by the support shown by the Commissioner and everyone else involved, particularly the invaluable advice and help she received from Mohammed Mahroof of the Muslim Police Association.
Reproduced with kind permission of "The Job"