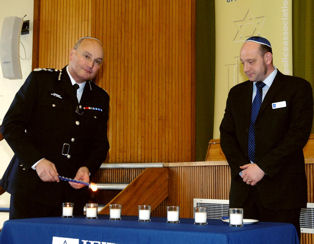 Speaking at a special event marking Holocaust Memorial Day, the Commissioner said the police must all remember the victims of the past to prevent others from suffering hate crimes in the future.
The event, which was organised by the Jewish Police Association, marked the internationally recognised day that remembers all those killed in the Holocaust and in subsequent genocides around the world.
The Commissioner was joined by the deputy Mayor of Barnet as well as senior MPS colleagues, Jewish community representatives, new police recruits and representatives from other staff associations and children from local schools.
The audience, at Simpson Hall, Hendon, saw presentations, children's choirs, a short play and the lighting of candles to remember the victims of the Holocaust.
In his speech, Sir Paul said: "It is our duty to look back and remember this terrible event in our history and hope because we look forward with optimism that our world will neither forget nor repeat these crimes against human kind.
"It is important too to recognize that many different groups suffered during the Holocaust: Jews, Roma, Jehovah's witnesses, the Gay community, the disabled, men and women, young and old, white and black – they were all victims of hate.
"We call these hate crimes and the Met is committed to dealing with them, with all the resources, skills and expertise we can muster."
"New police recruits here today have learnt as part of their recruit training about prejudice, discrimination, and hate crime.
"Our Legacy of Hope, is to make the experience and words of the victims and survivors of the Holocaust and subsequent genocides a meaningful part of our future as police officers."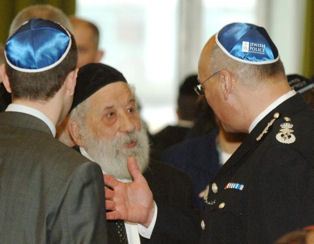 Mathew Shaer, chair of the Jewish Police Association, challenged the new police recruits in the audience to use Holocaust Memorial Day as a basis for reflection.
"Have we exercised our authority appropriately? Have we challenged inappropriate behaviour? Have we been courageous in protecting the vulnerable? Have we taken time to see things from another's perspective?"
Holocaust Memorial Day (HMD) is commemorated internationally on 27 January each year. This date was chosen as it is the anniversary of the day in 1945 on which the Soviet Army liberated the largest Nazi concentration camp – Auschwitz-Birkenau.
Each year, the Holocaust Memorial Day Trust urges everyone in the UK to pause and reflect on what can happen when racism, prejudice and exclusionary behaviour are left unchecked. On HMD we take the time to see how the lessons of the past can play a part in our communities today.
Each HMD has an annual theme which provides a focus for HMD activities. The theme for HMD 2010 is The Legacy of Hope.